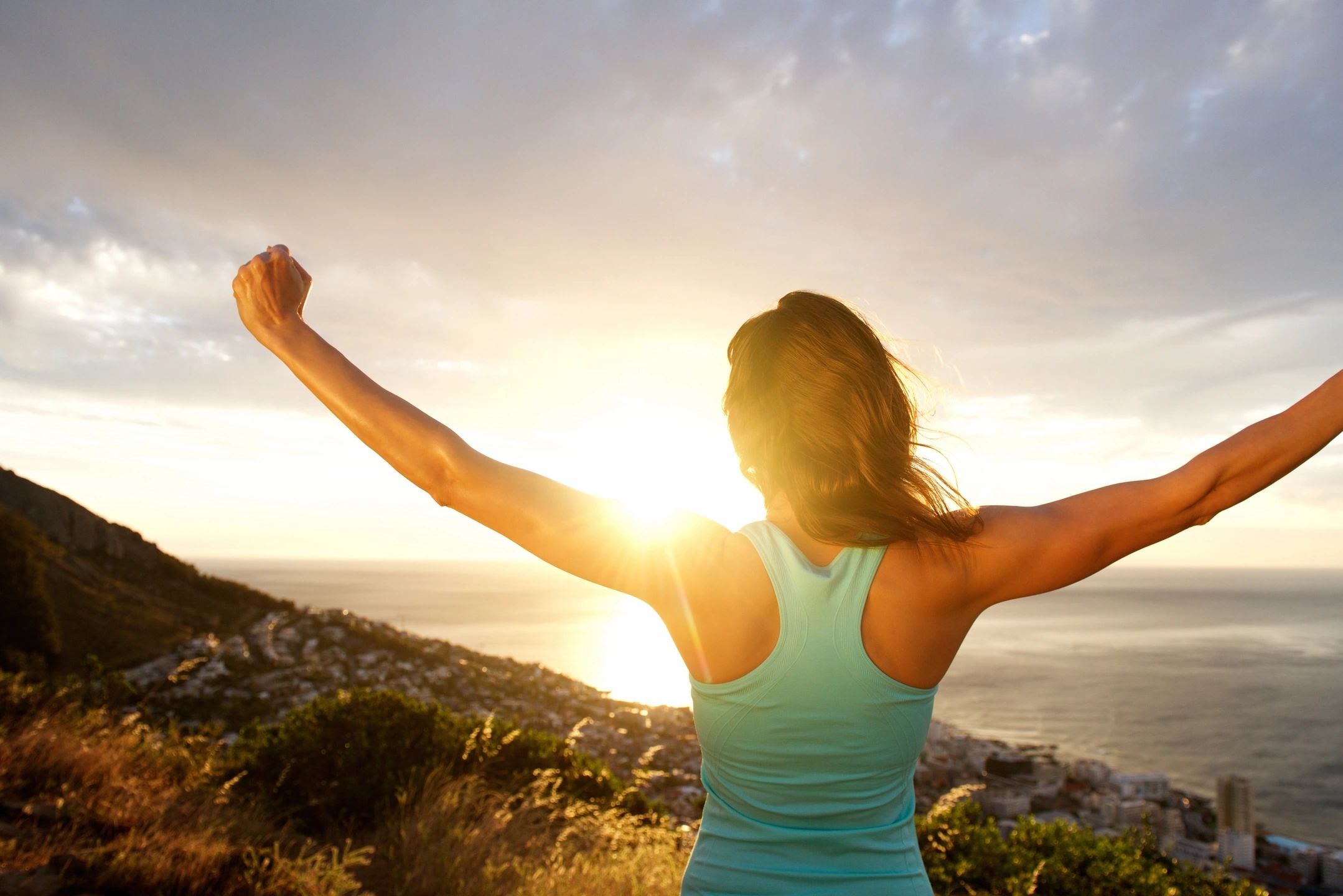 Hydrate
Being that we all live near Hallandale Beach, hydration is particularly important given the humid weather we experience during most of the year.
Most men should be drinking roughly 3.5 liters of water daily and women should be drinking 2.5 liters of water daily. If you are physically active and/or are consuming caffeine/alcohol, this number should be even higher.
Additionally, adding electrolytes to your water can also help aid in hydration if you are sweating frequently throughout the day.
Get Sunlight
Fortunately for most of us near Hallandale Beach, sunlight is no problem! We have access to the sun almost every day of the year.
Spending ~20 minutes in the sun is generally enough to get your daily vitamin D requirement
Do not spend too much time in the sun without sunscreen!
Hit Some Weights
Resistance Training 2-4x/week can help keep your joints and muscles strong as you age
Weight training has a number of metabolic and cognitive benefits
Be sure to incorporate a variety of movement patterns including squat, bend, push, pull, carry
Elevate your heart rate a few times per week
Beyond just walking and resistance training, performing higher intensity exercise that raises your heart rate has a number of cardiovascular and metabolic benefits
Think high-intensity intervals using sprinting, rowing, biking, or bodyweight exercises
Be sure to consult your physician before commencing high-intensity training!
Supplement with Omega 3s
Supplementing with Omega 3 Fatty acids is important because most individuals do not get enough Omega 3's in their diet
Omega 3's have been shown to lower the likelihood of atherosclerosis, reduce triglycerides, and lower blood pressure
Omega 3's can be consumed via Salmon, Shrimp, Chia/Hemp Seeds, Walnuts and Kidney Beans
Move throughout your day
Many jobs these days require long hours seated on a computer, if you fall into this category, make sure to move your body every hour!
Going for walks, stretching, or performing bodyweight exercises all can help prevent joint/muscle tension from developing due to extended postures
There are numerous cognitive benefits to performing exercises during the workday including improved working memory and cognitive flexibility
Eat Whole Foods
Regardless of your diet preferences (omnivore, pescatarian, vegetarian, vegan), it is important that the majority of the foods you consume come from whole foods
Often times when foods are heavily processed they lack the vital nutrients that are used to help your body's machinery run efficiently
Eating non-processed foods is beneficial to nearly every organ in your body, including your brain, heart, digestive organs, and skin
Pick up a New Hobby
Having hobbies outside of your work life can be a great stress reliever and provide your mind some need rest and relaxation
Learning new skills helps preserve your brain and prevent disorders such as Alzheimer's and dementia later in life
Try picking one hobby that challenges you physically, one that challenges your cognitively, and one that challenges you creatively
Protect your sleep
One of the most underutilized health and recovery habits we see in the clinic is sleep
Sleep is your body's most powerful tool to enhance physical and mental recovery and there is no other modality that can replace it!
If you are unable to get 7-9 hours of sleep per night, look to take a short nap (20-60min) throughout your day to pay off that sleep debt!
Unplug
Excessive screen time (laptop, phone, tablet, television) has been linked to depression, anxiety, and "cognitive clouding"
Being immersed in technology 24/7 will overload your nervous system with input is damaging for your eyes, ears, and the areas of your brain that are involved in focus, memory, and cognition
Unplugging occasionally will allow you to pursue other meaningful activities such as a hobby, being in nature, exercise, or high-quality sleep
If you are interested in learning more about how chiropractic care can set you on a path to a healthier and happier lifestyle, please feel free to reach out to your Hollywood Chiropractor below!
Call Us
schedule appointment nowschedule appointment now