Auto Accident and Personal Injury Relief
Hollywood, FL Auto Accident Chiropractor
At Miami Spine and Performance, we understand that auto accidents can be very scary and the treatment process after an accident can be overwhelming and add to the stress of the accident. Our goal is to take all of the stress away from the healing process and get you back to feeling your best as soon as possible. Our chiropractor physicians are here to help guide you through the recovery process following an auto accident or personal injury incident.
The number one complaint that we heard from patients that have seen a chiropractor in Hollywood, Hallandale Beach or Aventura for care after a car accident or work-related injury is that they did not feel that they were given individualized attention by the physician. Not being given a proper physical exam and having to feel like a statistic in a waiting room is not acceptable and will never be the case in our clinic.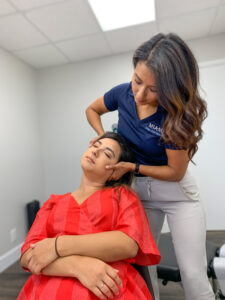 We have and always will value the quality of care over the number of patients in our office. Every patient that comes into our clinic whether its a professional athlete, an expectant mother, or a patient that suffers from the repercussion of a car accident, every patient will be given a thorough examination before commencing treatment, a comprehensive review of findings, and a customized treatment plan.
 You can be certain that every time you come into the clinic you will be seeing one of our physicians right away and will be working with them exclusively throughout your entire treatment plan.
Why should you see a chiropractor after an auto accident or personal injury incident?
Chiropractors are generally the first choice for those suffering from musculoskeletal pains after an auto accident or personal injury because we are able to assess and treat the majority of these injuries conservatively without the use of surgery or medication. We utilize chiropractic adjustments, gentle soft tissue techniques, and therapeutic exercises to get you out of pain quickly and back to doing the activities you love. 
Common Symptoms After a Car Accident Include:
Whiplash

Nerve Damage

Bruising

Muscle Strains and Stiffness

Dizziness/Ringing in the ears
If you have been in an auto-accident recently or in the past and are feeling any of these residual symptoms, we highly recommend that you get thoroughly assessed by a professional to make sure that there is nothing more serious going on and you are able to receive treatment to proper health and recover. At our clinic, we have had great success with auto-accident cases and would love the opportunity to help give you the quality of care you deserve. 
Our mission is to make your recovery from an auto accident or personal injury as smooth and empowering as possible. If you would like a complimentary consultation with one of our physicians about your accident, please give us a call or schedule below!
Call Us