Working to Make a Difference in our Community
At Miami Spine and Performance, we pride ourselves on our community involvement. Drs. Will Adams and Dr. Ivette Mendez have been continually active in Hallandale Beach and surrounding South Florida areas since first opening their chiropractic clinic in August 2019. They have taken part in various events to educate and bring awareness to the public about the benefits of conservative care.
The mission at Miami Spine and Performance is to empower every individual with the tools to start living healthier, more functional lives.
Team Chiropractors for the Miami Rugby Team
Dr. Will Adams and Dr. Ivette Mendez provide chiropractic care to the players of the Miami Rugby Team. We provide on-site physical assessments to evaluate athletes for any previous or existing injuries that may affect them on and off the field. The doctors perform manual therapy, stretching, and sports taping for Rugby players to prepare them for physical activity during the game. We provide athletes with individualized exercises designed to improve strength, flexibility, and range of motion to keep their joints healthy and decrease the risk of injury.
11919 SW 56th Street
Miami, FL 33175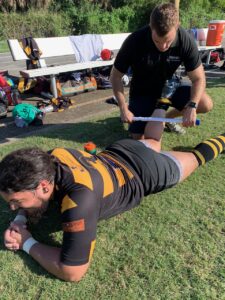 Proud Members of the following Chambers of Commerce:
Membership to Chambers of Commerce has allowed us to immerse ourselves into our community further and stay up-to-date on important topics affecting the people living in the Hallandale Beach and surrounding South Florida areas.
The Miami Spine and Performance Team has attended numerous Chamber events and programs that provide members with opportunities to get to know new people in the community and learn how to better serve their needs.
Miami Spine and Performance is also involved in the Health and Wellness group within the Greater Hollywood Chamber of Commerce. This group aims to bring professionals from different fields to educate and bring awareness regarding important health-related topics that may affect the surrounding communities.
Dr. Ivette Mendez is part of the Women in Business Council Committee of the Hallandale Beach Chamber of Commerce to bring together businesswomen of diverse occupations and provide opportunities for them to help themselves and others grow personally and professionally. Women of the Business Council meet with other female entrepreneurs every month to discuss leadership, education, networking opportunities in the community. Dr. Mendez is proud to be part of a group of women that emphasizes collaboration with other leaders in the community.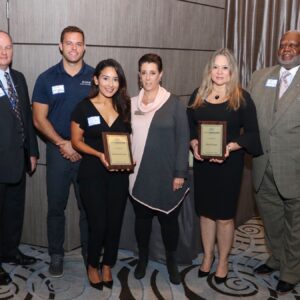 South Florida Corporate Wellness
Miami Spine and Performance offers on-site corporate wellness programming opportunities to maximize employee health, wellness, and productivity.
Our chiropractors specifically offer injury prevention screenings, and/or sports movement assessments, which are especially helpful around upcoming company-supported races, fitness challenges, etc. Emphasis on proper work ergonomics is discussed in depth at these events with specific recommendations that pertain to each employee's individual needs.
We also offer employees hands-on manual therapy as well as access to various recovery tools like the Normatec Compression Boots and Hypervolt Percussion Massager.
The Miami Spine and Performance Team offers complimentary 15-minute on-site consultations in which the doctor engages in one-on-one conversations in private to allow company members to ask questions specific to their individual needs and concerns.
Acqualina Wellness Fair
17875 Collins Ave, Sunny Isles Beach, FL 33160
Educational Community Workshops
The Miami Spine and Performance Team loves educating the community on various topics as they relate to chiropractic care, functional rehabilitation, performance training, injury prevention, functional medicine, and nutrition.
We offer numerous wellness presentations to inform the community about common conditions that may affect them or someone they know. Presentations pertain to common musculoskeletal conditions such as low back pain, neck pain, joint pain, headaches, jaw pain, and more.
We emphasize the importance of joint health and longevity using movement principles that benefit the general public or specific groups.
Our doctors create workshops that pertain to specific groups such as martial artists, Jiu-Jitsu athletes, Crossfitters, cyclists, runners, weekend warriors, the general working population, and more. Our team knows that although physical health is essential for health, we must also consider our internal health.
We discuss topics related to nutritional deficiencies, hormone balance, gastrointestinal health, blood sugar balance, stress management, food intolerances, allergies, and many more. We aim to educate the community about these health-related topics and provide them with the tools to make informed decisions about their wellbeing.
Our chiropractic team also discusses our natural approach in addressing various health conditions using natural strategies such as dietary counseling, physician-grade supplementation, lifestyle modification, and exercise. Our doctors provide dietary tips regarding healthy snacking, meal structure, and nutrient-rich foods.
Some popular wellness presentations include:
Understanding Low Back Pain and Sciatica
Work Smarter, Work Harder: Using Movement to Improve Productivity
The Low Back Pain Epidemic
Injury Prevention in Combat Sports
Movement Principles for the Fitness Athlete: Mobility and Stability Workshop
Injury Prevention and Longevity in Brazilian Jiu-Jitsu
Nutritional strategies for Optimal Performance in BJJ
Movement & Nutrition Strategies to Dominate Hell Week- Orangetheory Fitness
If you are interested in attending one of our upcoming workshops or hosting a workshop at your location please contact us at 754-231-8338 or via e-mail at [email protected]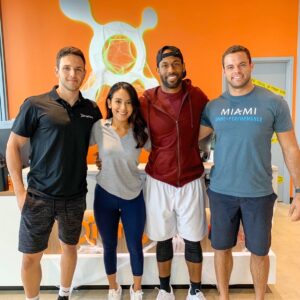 Fitness Involvement
Our chiropractic team believes fitness plays a key role in health and longevity. Dr. Adams and Dr. Mendez love staying active and they encourage their patients to find an activity they enjoy! They are part of multiple gyms in Hallandale Beach and surrounding areas. You may have seen them working out at any of the gyms below.
Orangetheory Fitness Aventura
Town Center Aventura
18839 Biscayne Blvd, suite a. Aventura FL, 33180
Orange Theory Fitness Hallandale Beach
419 N Federal Highway #107
Hallandale Beach, FL 33009
Orange Theory Fitness Hollywood
Hollwood Hills Plaza
3251 Hollywood Blvd
Hollywood, FL 33021
Prestige Fitness Aventura
2650 NE 189th Terrace.
Ojus, FL 33180.
407 NE 2nd Ave
Hallandale Beach, FL 33009
2635 NE 188th St
Aventura FL 33180
Promenade Shops. 20335 Biscayne Blvd L-201
Aventura, FL 33180
15423 NE 21st Ave
North Miami Beach, FL 33162
Gracie Barra Hallandale Beach
648 West Hallandale Beach Blvd
Hallandale Beach, FL 33009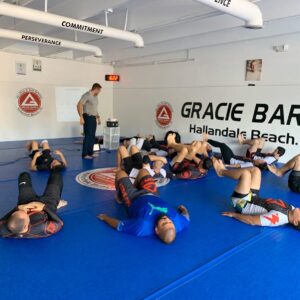 Community Events
At Miami Spine and Performance we believe that it's important for every person to have a sense of community. A strong community can greatly benefit families and businesses in a variety of ways. We believe it's important to participate in community events to meet people and provide support to the individuals who are impacted by daily stress, struggles, and chaos of modern life.
We take pride in collaborating with organizations that contribute to the growth of our South Florida community. Since opening our chiropractic practice, we have partnered with various organizations to provide support for their individual causes.
There are several excellent organizations that aim to give back to the people of the community and provide support to those in need. We frequently work with organizations centered around the advocation of health and wellness in the community. We have also worked with groups that provide resources to underserved individuals and those suffering from illness.
Participations:
FLIPANY Fun Run: Serving youth and families to empower children, youth and adults through physical activity & nutrition programs.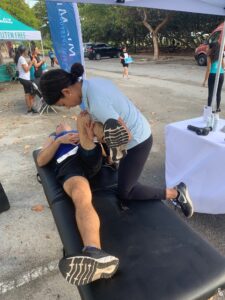 Run 4 Life 5k: The Run 4 Life 5K is for runners, walkers, and the entire family to honor the lives of organ, eye, and tissue donors, celebrate the lives of recipients, and recognize those waiting for a lifesaving transplant.
Hallandale Beach Back to School Bash: Providing students free back to school supplies and education through various health and fitness vendors.
If you are a local gym, business, athletic group, or community organization please feel to reach out to us! Our team at Miami Spine and Performance is committed to serving this wonderful community in South Florida and would love to collaborate with you.
For inquiries please call 754-231-8338 or email us at [email protected]