Corrective Exercise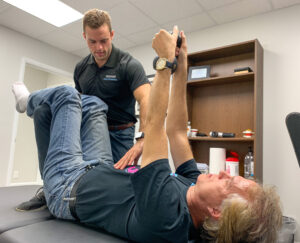 At our clinic, we emphasize an active approach to care for all of our patients. Chiropractic adjustments and hands-on manual therapy are extremely powerful tools to help provide an optimal internal environment for the body to function optimally but in order to create lasting changes in your body and build long-term resiliency, we regularly incorporate corrective exercise into care as well. 
When you come to our clinic for care, our number one priority is to help you meet your specific goals. Every treatment plan is different and custom-tailored. Some individuals such as professional athletes and competitors have high-performance goals, while others simply want to get out of pain and move on. We respect everyone's goals and will meet you where you are at.
Will I be exercising during my visit?
When we talk about therapeutic exercise, we are not talking about doing workouts or training in the clinic. Many of the exercises that we are simple movements, stretches and light strengthening exercises using bands or bodyweight. Our goal is to make our visits as enjoyable and therapeutic as possible. The high-level athlete's patients that we work with on performance goals will use weights and perform more complicated exercises, but the majority of our patients are doing simple exercises and stretches to relieve their pain and engrain the benefits of the chiropractic and manual therapy treatment they received.
What types of corrective exercise will we be doing in the clinic?
In our clinic, we primarily utilize three systems for assessment and therapy with our patients:
Mckenzie Method of Mechanical Diagnosis and Therapy (MDT):
The Mckenzie method is one of the highest research conservative assessment and therapy approaches to orthopedic complaints. The Mckenzie Method is used to specifically identify how your orthopedic condition behavior and prescribed very specific movements to eliminate your symptoms and improve your range of motion. The majority of patients will be put through a movement assessment during their first visit and in most, cases will be prescribed a repeated joint movement based on their specific presentation.
Dynamic Neuromuscular Stabilization (DNS):
Miami Spine and Performance is the only chiropractic clinic in the state of Florida certified in Dynamic Neuromuscular Stabilization. This system of assessment and exercise is based on developmental kinesiology. When an infant develops into a child, there are specific milestones (crawling, tall kneeling, standing) as well as transitions that create an environment for the body to properly stabilize joints and normalize muscle tone. 
Due to environmental and postural stresses, the mechanics of the body change over time, joints become destabilized and muscles become inhibited. DNS uses gentle developmental exercises to restore proper movement, eliminate pain and prevent future injury.
Functional Range Conditioning (FRC):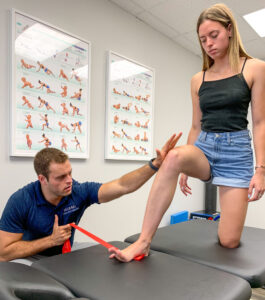 Functional Range Conditioning is a system of assessment and exercise programming that is designed to make joints work as well as possible through repeated stretches, exercises and hands-on therapy to normalize joint motion. Functional Range Conditioning utilizes Controlled Articular Rotations (CARs) to maintain and improve joint range of motion over the long term. We utilize FRC programming frequently with our performance program, designed to improve physical performance over the long-term through biological and neurological adaptation.
For an example of FRC programming for the hip see our video below! We regularly provide FRC programming on our youtube channel for anyone to use to improve their joint capacity.
Will I be given exercises to do at home?
Yes! We believe that treatment is most effective when reinforced by home programming. We will never overwhelm you with home exercises but will normally ask that you perform one or two movements regularly on your own to make sure that you are consistently making progress even when you are not present in the office!
To book an assessment with one of our Chiropractors book online at the link below or give us a call. We look forward to working with you!
Call Us